Automatic Retinal Image Analysis (ARIA) – Technology for digital-Public Health
Global Burden of Diseases – Stroke, Dementia, Diabetes…
According to the report by the Global Burden of Disease 2013, the three disease areas that have the highest percentage contribution (%) of age-standardized disability-adjusted life-years (DALY) are neurological disorders, ischemic heart disease and stroke [1]. The overall stroke burden in terms of the absolute number of individuals affected and the number of people with disability from stroke has increased across the globe in men and women of all ages. Stroke is no longer regarded as a disease of the elderly. It is increasing among young and middle-aged adults, likely because of increased metabolic risk factors such as obesity and diabetes mellitus, especially for individuals between 40-64 years in developing countries. For dementia, a similar problem is also found with more than four times increase in the rate of dementia in the low and middle-income countries compared to the high-income countries in the next 30 years. A substantial economic burden is going to impose on our society; the estimated worldwide cost of dementia was US$818 billion in 2015. By now, the global cost of dementia is probably above US$1 trillion.
Effective Prevention for High-Risk Individuals
What can we do about this problem? The WHO Global Action Plan for the Prevention and Control of Non-communicable Diseases (NCDs) 2013-2020 (resolution WHA66.10) estimated that more than 36 million die annually from NCDs (63% of global deaths), including 14 million people who die relatively young, before the age of 70. More than 90% of these premature deaths from NCDs occur in low- and middle-income countries and could have largely been prevented. Most premature deaths are linked to common risk factors, such as tobacco use, unhealthy diet, physical inactivity and harmful use of alcohol [3]. The key to reversing these NCDs problems is to develop an effective health promotion strategy that could empower high-risk individuals to change their lifestyle, including quitting smoking, adopting a healthy diet, increasing physical activity, and drinking responsibly.
The Role of "Digital Public Health" in Health Promotion and Disease Prevention
The term digital public health was quoted from the Corporate report of Public Health England, "Digital-first public health: Public Health England's digital strategy" to echo the need to use digital innovation and technology to protect and promote health and reduce inequalities [4]. In the United States, a similar initiative was carried out by Harvard Medical School in Omada's program [5]. Omada Health is a digital therapeutics firm focused on preventing obesity-related chronic conditions; it is a perfect example of how digital health interventions can be used to mitigate the overwhelming burden of chronic diseases.
ARIA development, such as "ARIA-stroke risk", use retinal images to estimate and quantify the risk of stroke for health promotion purpose. The study included stroke patients admitted to the neurology ward versus normal individuals as control; the results achieved more than 90% sensitivity and specificity. [6]. Primary prevention targeting at high-risk patients is by far the most effective strategy to reduce the burden of stroke, and this approach may identify individuals starting to show signs of vascular characteristics associated with stroke from the retinal images. In another study, we have shown that "ARIA-eWMH" can be used to estimate white matter hyperintensities (WMH) from magnetic resonance imaging (MRI) on the brain based on community-dwelling elderly without stroke or dementia. Among 180 subjects who have their WMH volume estimated by brain MRI and their age-related WMH grading (0-1 vs 2-3), ARIA-eWMH has a sensitivity and specificity of 93% and 98%, respectively, for estimating the risk of cerebral small vessel disease (SVD) [7]. Individuals with cerebral SVD have a higher risk of cognitive decline, stroke and dementia. However, there is increasing evidence showing that WMH and SVD are more dynamic than we originally thought, WMH may increase or decrease in time due to ageing, lifestyle changes and other risk factors. Early detection and intervention may be more effective than waiting until symptoms occurred. Modification of traditional risk factors and a healthy lifestyle are currently the most important prophylactic and therapeutic approaches for SVD [8].
Reviewed Journal Publications (Relevant to ARIA technology only)
Qu Y, Zhuo Y, Lee J, Huang X, Yang Z, Yu H, Zhang J, Yuan W, Wu J, Owens D, Zee B. "Ischemic and haemorrhagic stroke risk estimation using a machine-learning-based retinal image analysis. Frontiers in Neurology. 2022 Aug 22;13:916966.  https://doi.org/10.3389/fneur.2022.916966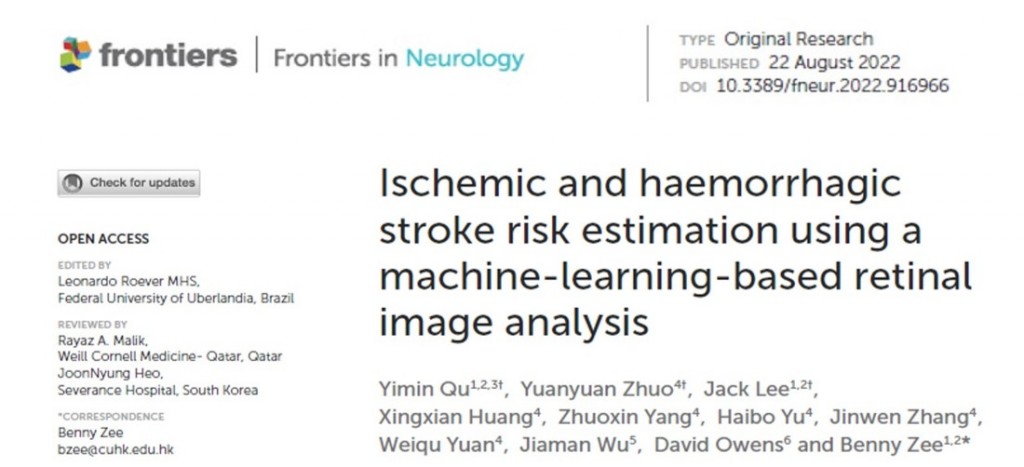 Qu Y, Lee JJ, Zhuo Y, Liu S, Thomas RL, Owens DR, Zee BC. Risk Assessment of CHD Using Retinal Images with Machine Learning Approaches for People with Cardiometabolic Disorders. J. Clin. Med. 2022, 11,  2687. https://doi.org/10.3390/jcm11102687
Zhuo Y, Qu Y, Wu J, Huang X, Yuan W, Lee J, Yang Z, Zee B. "Estimation of stroke severity with National Institutes of Health Stroke Scale grading and retinal features: A cross-sectional study", Medicine (Baltimore). 2021 Aug 6;100(31):e26846, doi: 10.1097/MD.0000000000026846

Zee B, Wong Y, Lee J, Fan Y, Zeng J, Lam B, Wong A, Shi L, Lee A, Kwok C, Lai M, Mok V, Lau A, "Machine-learning method for localization of cerebral white matter hyperintensities in healthy adults based on retinal images", Brain Communications, Volume 3, Issue 3, July 2021, fcab124, https://doi.org/10.1093/braincomms/fcab124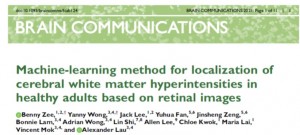 Maria Lai, Jack Lee, Sally Chiu, Jessie Charm, Wing Yee So, Fung Ping Yuen, Chloe Kwok, Jasmine Tsoi, Yuqi Lin, Benny Zee. "A machine learning approach for retinal images analysis as an objective screening method for children with autism spectrum disorder", EClinicalMedicine 2020, 100588,

https://doi.org/10.1016/j.eclinm.2020.100588

.
Zhuo YY, Wu JM, Kuang L, Qu YM, Zee B, Lee J and Yang ZX, "The Discriminative Efficacy of Retinal Characteristics on Two Traditional Chinese Syndrome s in Association with Ischemic Stroke", Evidence-Based Complementary and Alternative Medicine, Volume 2020, Article ID 6051831, https://doi.org/10.1155/2020/6051831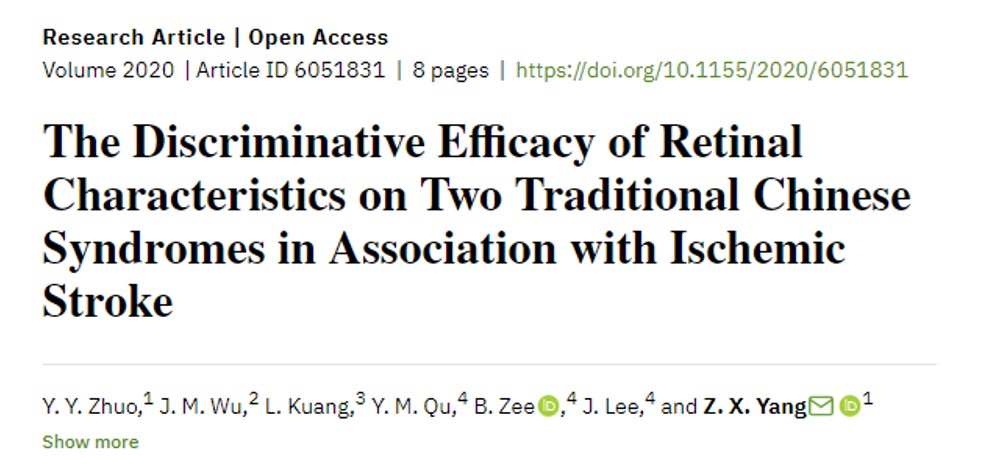 Lau A, Mok V, Lee J, Fan Y, Zeng J, Lam B, Wong A, Kwok C, Lai M, Zee B, "Retinal image analytics detects white matter hyperintensities in healthy adults", Annals of Clinical and Translational Neurology, 15 November 2018,

https://doi.org/10.1002/acn3.688
Zhuo Y, Yu H, Yang Z, Zee B, Lee J, Kuang L "Prediction Factors of Recurrent Stroke among Chinese Adults Using Retinal Vasculature Characteristics", J Stroke Cerebrovasc Dis. 2017 Apr;26(4):679-685. DOI: 10.1016/j.jstrokecerebrovasdis.2017.01.020. Epub 2017 Feb 21.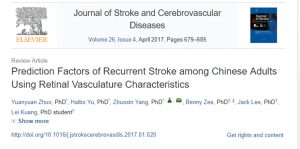 Zee B., Lee J., Li Q., Mok V., Kong A., Chiang L.K., Ng L., Zhuo Y., Yu H., Yang Z. "Stroke risk assessment for the community by automatic retinal image analysis using fundus photograph, Quality in Primary Care (2016) 24 (3): 114-124

Guo, V.Y., Chan, J.C.N., Chung, H., Ozaki, R., So, W., Luk, A., Lam, A., Lee, J., Zee, B.C. Retinal Information is Independently Associated with Cardiovascular Disease in Patients with Type 2 diabetes (2016) Scientific Reports, 6, art. no. 19053; DOI: 10.1038/srep19053.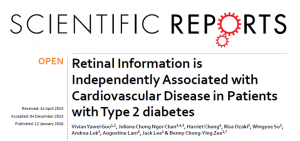 Guo V., Cao B., Wu X., Lee, J., Zee B.C. Prospective Association between Diabetic Retinopathy and Cardiovascular Disease – A Systematic Review and Meta-analysis of Cohort Studies, Journal of Stroke and Cerebrovascular Diseases, 25 (7), July 2016, pp. 1688–1695

Chiang LK, Yau MKC, Kam CW, Ng LV, Zee BCY, "Epidemiological study of hypertensive retinopathy in the primary care setting: A retrospective cross-sectional review of retinal photographs", (2016) Family Medicine and Community Health, 4 (4), pp. 13-21
Lee J, Zee B, Li Q, "Detection of Neovascularization based on Fractal and Texture Analysis with Interaction Effects in Diabetic Retinopathy", PLoS One. 2013 Dec 16;8(12):e75699. DOI: 10.1371/journal.pone.007569

Lee J, Zee B, Li Q, "Segmentation and texture analysis with multimodel inference for the automatic detection of exudates in early diabetic retinopathy", J. Biomedical Science and Engineering, 2013, 6, 298-307.

Conference Presentations (Relevant to ARIA only) 
Owens DR, Lee J, Qu Y, Zhou Y, Ding L, Liu S, Yuan W, Chen M, Zhang J, Rafferty JM, Thomas RL, Zee B; "Validation study for coronary heart disease (CHD) among diabetes patients based on automatic retinal image analysis (ARIA) method", oral presentation (#238) Session OP 42, Cardiovascular disease: predictors and outcomes, 57th Annual Meeting of the European Association for the Study of Diabetes (EASD) 28 Sep 2021 13:30-15:00.
Thomas RL, Lee J, Chee P, Zhuo Y, Lai M, Rafferty JM, Owens DR, Zee B, "Estimation and validation of machine-learning-based retinal image analysis for detection of the risk of undiagnosed diabetes", oral presentation (#289) Session SO 04, Prediction models and precision medicine, 57th Annual Meeting of the European Association for the Study of Diabetes (EASD) 1 Oct 2021, 11:30-11:45.
Zee B, Lee J, Chee P, Law A, Chan V, Zhuo Y, Lai M, Thomas R, Owens D, "Estimation of risk of undiagnosed diabetes and prediabetes using machine learning-based automatic retinal image analysis (ARIA) method", 22nd Diabetes and Cardiovascular Risk Factors – East Meets West Symposium, October 3 – 4, 2020.
Lai M, Li X, Lee J, Kwok C, Zee B, "Diabetes and lifestyle changes significantly associated with automatic retinal image analysis (ARIA) based white matter hyperintensities (WMH)", 22nd Diabetes and Cardiovascular Risk Factors – East Meets West Symposium, October 3 – 4, 2020.
 Ahmat R, Cheing GLY, Lam KCA, Luk CWS, Wong HYH, Zee BC, "Prediction of diabetic peripheral neuropathy by choroidal thickness measurement among patients with type 2 diabetes: a case-control study", 22nd Diabetes and Cardiovascular Risk Factors – East Meets West Symposium, October 3 – 4, 2020.
Yimin QU, Jack LEE, Yuanyuan Zhuo, Jinwan Zhang, Benny ZEE, "Risk Estimation of Ischemic Stroke and Hemorrhage Stroke With Retinal and Clinical Characteristics", International Stroke Conference 2020, 19-21 February 2020, Los Angeles Convention Center in Los Angeles, CA
A. Lau, V. Mok, B. Lam, A. Wong, J. Lee, M. Lai, B. Zee, "Automated retinal image analysis to detect white matter hyperintensities in stroke- and dementia-free healthy subjects – a cross-validation study", European Stroke Organization Conference, 16-18 May 2018, Gothenburg, Sweden.
Y. Wong, B. Lam, J. Lee, M. Lai, L. Au, A. Wong, B. Zee, V. Mok, Development of automatic retinal image analysis (ARIA) for screening cerebral small vessel disease in the community, Journal of the Neurological Sciences, Volume 381, Supplement, 15 October 2017, Page 959, ISSN 0022-510X,

https://doi.org/10.1016/j.jns.2017.08.2700

.
Benny ZEE, Vincent MOK, Jack LEE, Yannie SOO, Maria LAI, Chloe KWOK, Mark CHONG, Pauline KWAN, Eugene LO, Adrian WONG, "White matter hyperintensities (WMH) estimated by automatic retinal images analysis (ARIA) for early detection of dementia", Poster Presentation, Gordon Research Conference – Cognitive Dysfunction in Brain Diseases Meeting, 11-16 June 2-17, Chinese University of Hong Kong
Benny ZEE, Vincent MOK, Jack LEE, Yannie SOO, Maria LAI, Chloe KWOK, Mark CHONG, Pauline KWAN, Eugene LO, Adrian WONG, "Association between risks of dementia and stroke based on white matter hyperintensities (WMH) estimated by automatic retinal images analysis (ARIA)", Poster Presentation, International Alzheimer's Disease Conference, 26-27 May 2017, Hong Kong Science and Technology Parks
Lei Kuang, Benny Zee, Jack Lee, Eric Hui, Shuk-Yun Leung, Sum Lee, Rebecca Thomas, David Owens, Association and Predictive Model for Diabetic Neuropathy Using Retinal Image Characteristics, Control #2017-A-4144-Diabetes, American Diabetes Association's 77th Scientific Sessions, June 9-13, 2017 in San Diego, California
Lei Kuang, Benny Zee, Jack Lee, Eric Hui, Shuk-Yun Leung, Sum Lee, Rebecca Thomas, David Owens, Association between Retinal Vascular Structure and Diabetic Nephropathy, Control #2017-A-4190-Diabetes, American Diabetes Association's 77th Scientific Sessions, June 9-13, 2017 in San Diego, California.
Zee B., Mok V., Lee J., Lai M., Kwok C., Chong M., Kwan P., Lo E., Wong A. "Automatic Retinal Image Analysis As An Early Screening Tool For Risk Of Dementia In The Community", BRAIN 2017 Conference and The 14th Asia Pacific Multidisciplinary Meeting for Nervous System Diseases, 6–7 January 2017
Zee B, "A System Science Approach for Accessing Innovative Community-based eHealth Method: An example using Automatic Retinal Image Analysis (ARIA) for hypertension" in the Plenary Session 4 – Public Health Innovation and Informatics with a System Science Perspective, JCSPHPC 15th Anniversary Conference: International Conference on Innovation in Public Health Sciences, 23 – 25 September 2016
Zee, B "Automatic Retinal Image Analysis for stroke risk estimation as a tool for health promotion in public health application", in Parallel Session H – Frontier Technologies with Impacts in Public Health, JCSPHPC 15th Anniversary Conference, 23 – 25 September 2016
Zee B, "Automatic retinal image analysis (ARIA) for stroke risk assessment in the community using fundus photographs", Engineering Medical Innovation Summit: Medicine for the Future (EMedI Summit) 2016, Convention Centre 3 (Phase III), Hong Kong Science Park, 20-21 August 2016
Zee B, "Innovation and Technology Advancement for Global Public Health in the eHealth Era", Keynote Speaker for the 5th Annual Global Healthcare Conference (GHC 2016), Singapore, 18-19 July 2016
Zee B, "Innovation and Technology Advancement for Health Care System in the eHealth Era", Asia Pacific Electronic Health Records Conference 2016, Hong Kong Convention Centre, 6 July, 2016
Kuang L and Zee B. Oral presentation: Early Detection of Diabetic Neuropathy using Retinal Image, SMDM: Asia-Pacific Conference, Hong Kong 2016
Kuang L and Zee B. Poster: Association between Vascular risk factor, Retinopathy, Renal Insufficiency and Diabetic peripheral neuropathy in U.S Adults with Pre-diabetes and Diabetes using National Health and Nutrition Examination Study (NHANES) 1999-2004. HKCCM Annual Scientific Meeting (ASM), Hong Kong 2015
Guo, Yawei; Zee Chung Ying Benny; Chung Hau Yee; Osaki Risa; So Wing Yee; Luk Andrea; Augustine Lam; Lee Jock Wai And Chan Chung Ngor Juliana. "Retinal Biomarkers as a Potential Tool for the Detection of Coronary Heart Disease in Patients with Type 2 Diabetes ". Paper presented in the American Diabetes Association scientific sessions, organized by the American Diabetes Association. San Francisco, United States of America, 2014.06.11.
Zee B, "Innovative Retinal imaging analysis for diabetic patients", The HK – Swiss Diabetics Scientific Seminar, Grand Hyatt Hotel, Wan Chai 10-11 Oct 2012.
Zee B, "Medical Device Development by Biostatistician: A Change in Research Mind-Set", Keynote Speaker to Biomedical Engineering International Conference 2012 (BME2012), Hong Kong Productivity Council, 7 Dec 2012
AWARDS (Relevant to ARIA)
"Outstanding Social Capital Partnership Award (Corporate/Organization)" granted by the Labour and Welfare Bureau, Hong Kong SAR, Dec 2020
"Social Capital Builder Logo Award" granted by the Labour and Welfare Bureau, Hong Kong SAR, Dec 2020
Innovation and Entrepreneurship Awards (第十四届"中国发明家论坛"暨第十一届"发明创业奖·人物奖"), Dec 2019
Most Valuable Service Awards in Hong Kong 2019 – "Most Innovative Chronic Disease Prevention Technology Award", 13 June 2019
Most Valuable Service Awards in Hong Kong 2019 – "Excellence in Artificial Intelligence, Machine Learning and Technical Support Services (Certificate of Honor 2019)", 13 June 2019
Graduation Certificate of Incubation Program (Incu-Tech) of Hong Kong Science and Technology Parks, 2019
Hong Kong Awards for Industries 2018 (Merit): "Equipment and Machinery Design", Dec 2018
Hong Kong Smart City Summit cum Smart City Awards 2018 for Health View Bioanalytic Limited "Outstanding Assessment of Health Data Analysis Program" 11 June 2018 (香港智慧城市峰會暨智慧城市大獎2018 "傑出評估健康之數據分析方案")
Shenzhen Municipal "Science and Technology Project Award 2016 (Advanced Individual)" 深圳市級科技項目獎 (先進個人) – presented by Shenzhen Science and Technology Innovation Committee (深圳市科技創新委員會) on April 2017
"Best Innovative Award" and "Best Protocol Award", CUHK Entrepreneur Day 2017 Competition, 12 May 2017. 中大創業大賽2017 – 傑出創新創意獎,傑出方案獎
"Technological Achievement Award" – 2016 Hong Kong Awards for Industries (HKAI)
Innovation Forum – Imagine IF 2016, Top 50
Talent Unleashed "Best Startup – Social Impact", Top 3 Finalist of Asia Pacific Region, Melbourne, Australia 21 July 2016.
5th Bank of China, Hong Kong Federation of Innovative Technologies and Manufacturing Industries (FITMI) "Technology Start-up" Merit Award, 10 Dec 2015
Vice-Chancellor Cup for Entrepreneurship (VCCE) competition – Topic: Automatic Retinal Image Analysis. Champion in February 2011, with Li Qing (PhD student in SPHPC) and a group of MBA students
Award the "E Craig Nemec Achievement Challenges – Austin Ventures" in the Venture Lab Investment Competition (VLIC) at Texas Austin on May 2011, with a Li Qing (PhD student in SPHPC) and a group of MBA students